Thank you to all my followers.  Happy new year to you all.  Been busy reading books and writing reviews.  The books are piling up and my reviews are falling behind.  I know there are no excuses but when you're tired and can't think straight it is difficult to write coherently so, the reviews fall a little behind but I am getting there.  I will try and post them one or two at a time over the next week. For today's post I will give you one I finished reading only yesterday.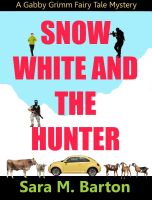 Snow White and the Hunter: A Gabby Grimm Fairy Tale Mystery #1  –  Gripping, suspense-thriller!  I found this book very hard to put down; it had me intrigued and hooked right from the start.  Sara writes in an easy reading style, and whether or not it is aimed at younger readers this older reader found it very entertaining and enjoyable.  The characters come to life and you feel that you are there with them albeit as an observer. Suspense all the way through with a few lulls to make you feel you can relax then wham – something happens to take you out of your comfort zone and you again have to deal with a dangerous culprit.  It seems that terrorists have come to Latimer Falls, and disrupted the idyllic life of the sheriff, and his deputy who have moved there to lead a quiet life and to get away from the "crime capitals" and other traumatic experiences.  The way Gabby explains it "…it's not like we had that much crime to worry about.  The occasional teenage pranks… [stuffing] a scarecrow into the town's commemorative cannon in the town square.", "… joyriding through town in [a stolen pickup truck]", terrorists are not the usual visitors to Latimer Falls.  The story is a gripping and suspense filled thriller with just enough twists and turns to keep you wondering what's going to happen next.
Thank you Sara, for the opportunity to read this book.  I enjoyed it immensely and I look forward to reading #2.
That's all for now. Get your copy here https://www.smashwords.com/books/view/244981 and keep reading folks.  Cheers.