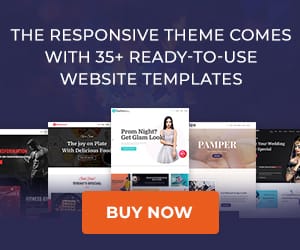 Are you still looking for just the right website?  CyberChimps gives you the Responsive WordPress Theme with a load of installations/plugins making it a great place to start building your website.  You can download the Responsive Free to check out all the themes and templates but to take full advantage of the addons/plugins available you would need to go 'Pro' and take your website to the next level.
Responsive Elementor Addons (REA) is included in Responsive Pro and provides an enhanced page building experience which helps you design beautiful widgets and websites with a variety of templates to choose from.
I thought I would share a couple of examples, one an auction site and the other a food blog.
The images below are only indicative of some of the templates available in Responsive themes.
i hope you have enjoyed this short tour of Responsive's themes and templates.  Let me know in the comments below which theme and template you chose.  Cheers for now.